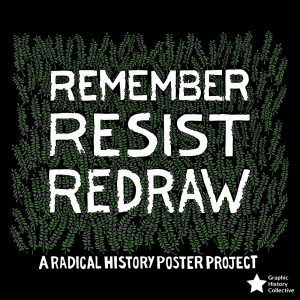 Last month, the Graphic History Collective (GHC) launched Remember | Resist | Redraw: A Radical History Poster Project to intervene in the Canada 150 conversation.
In January, we released two posters. Poster #00 by Kara Sievewright and the GHC introduced and explained the goals of the project. Poster #01 by Lianne Charlie, which was showcased on ActiveHistory.ca and CBC, kicked off the series with a critical examination of 150 years of colonialism in the Yukon.
Earlier this month, in recognition of Black history month, we released Poster #02, which looks at Chloe Cooley and the history of slavery in Canada and features the amazing art of Naomi Moyer and the powerful words of historian Funké Aladejebi.